Today we're going to learn how to #shelfie like you mean it. Sure you can toss a bunch of knick knacks on a shelf and call it a day - but there are actually some specific techniques that you can use to create a perfectly styled shelf. Keep reading to get started!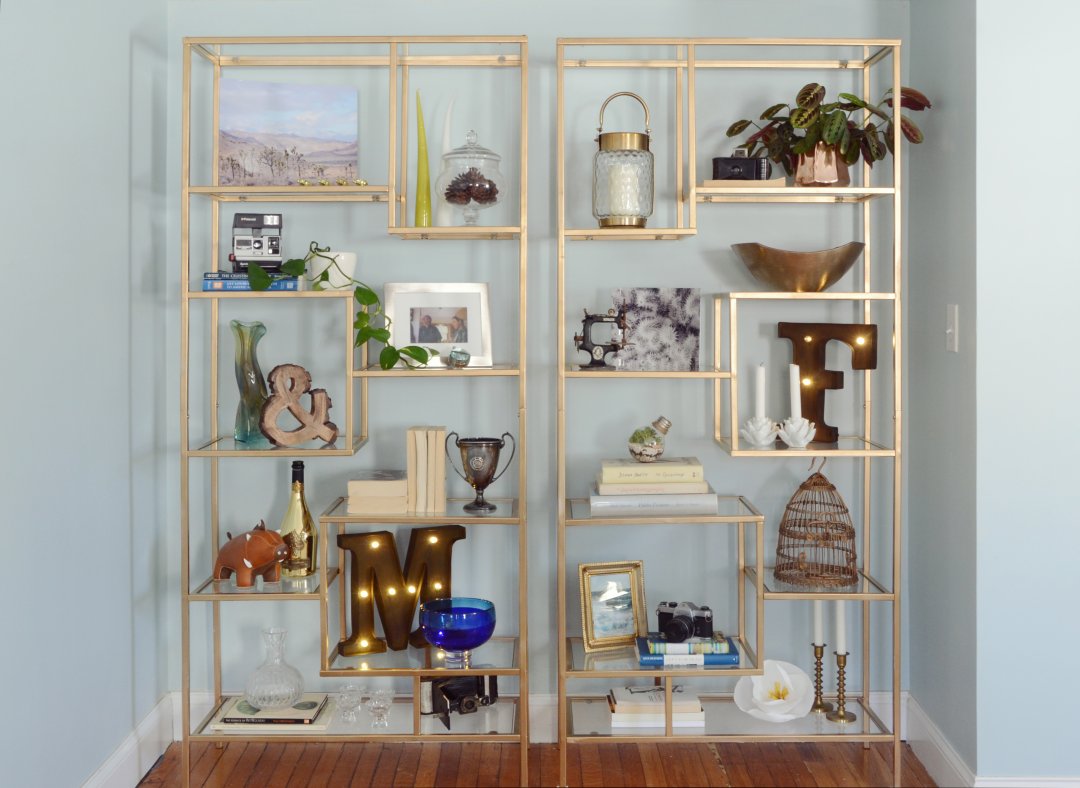 Step 1
Pick a color scheme. Choose a few colors that you plan to focus on. I decided to go with gold, blue and green, with a few darker browns and blacks mixed in. You'll notice there are no warm colors (reds, pinks and oranges) which keeps the overall feel very cohesive.
Step 2
Place large items first.
Begin with your bigger focal pieces. For me, those were my two new curved metal prints from
Mixbook.
I uploaded photos from my recent trip to Palm Springs, California and they printed them on these awesome freestanding curved metal backings. They're the perfect artwork for shelves because you don't have to worry about how to display them - just place them on a flat surface and you're done. And now, an aside:
If you're interested in buying a curved metal print from Mixbook, I have a crazy good coupon code for you... the 8x10s normally go for $49, but if you use coupon code DFMETAL you can get them for
$15 EACH!
And the 11x14s are normally $69 but you can get them for $25 using the same code. This deal is good through May 22nd, 2017 at midnight PST.
Anyways... be sure to spread out your larger items throughout your shelving, so that they are evenly spaced. And don't be shy - bigger is sometimes better!
Step 3
Place colorful items next. Again, make sure to spread them evenly throughout your layout. Stick to your chosen color scheme, and don't be tempted to digress. Now is the time to add a plant or two also... green is a color after all.
And as you're working, keep in mind that darker, heavier objects will look more natural on lower shelves, while lighter items will feel more appropriate towards the top. This will give the overall composition a grounded feeling.
Step 4
Add books.
Piles of books can provide visual interest on their own, but they are also handy to use as a pedestal to raise items up or draw attention to smaller items (case in point:
the terrarium
). Consider turning paperbacks around if you're only displaying them for decorative purposes (see the books next to the trophy).
Step 5
Take a closer look. Revisit each shelf individually, making sure to layer different heights and textures to create pleasing vignettes. If one particular area looks off, try replacing an angular item with something more rounded or a tall piece with something a little shorter.
Here are two tips: groupings of objects look more visually pleasing in odd numbers, especially in threes, so remove or add an object if it's not looking quite right. And diagonals always look best - if you were to draw a line connecting the tops of each of the items on my shelves, you'd see a lot of diagonal lines.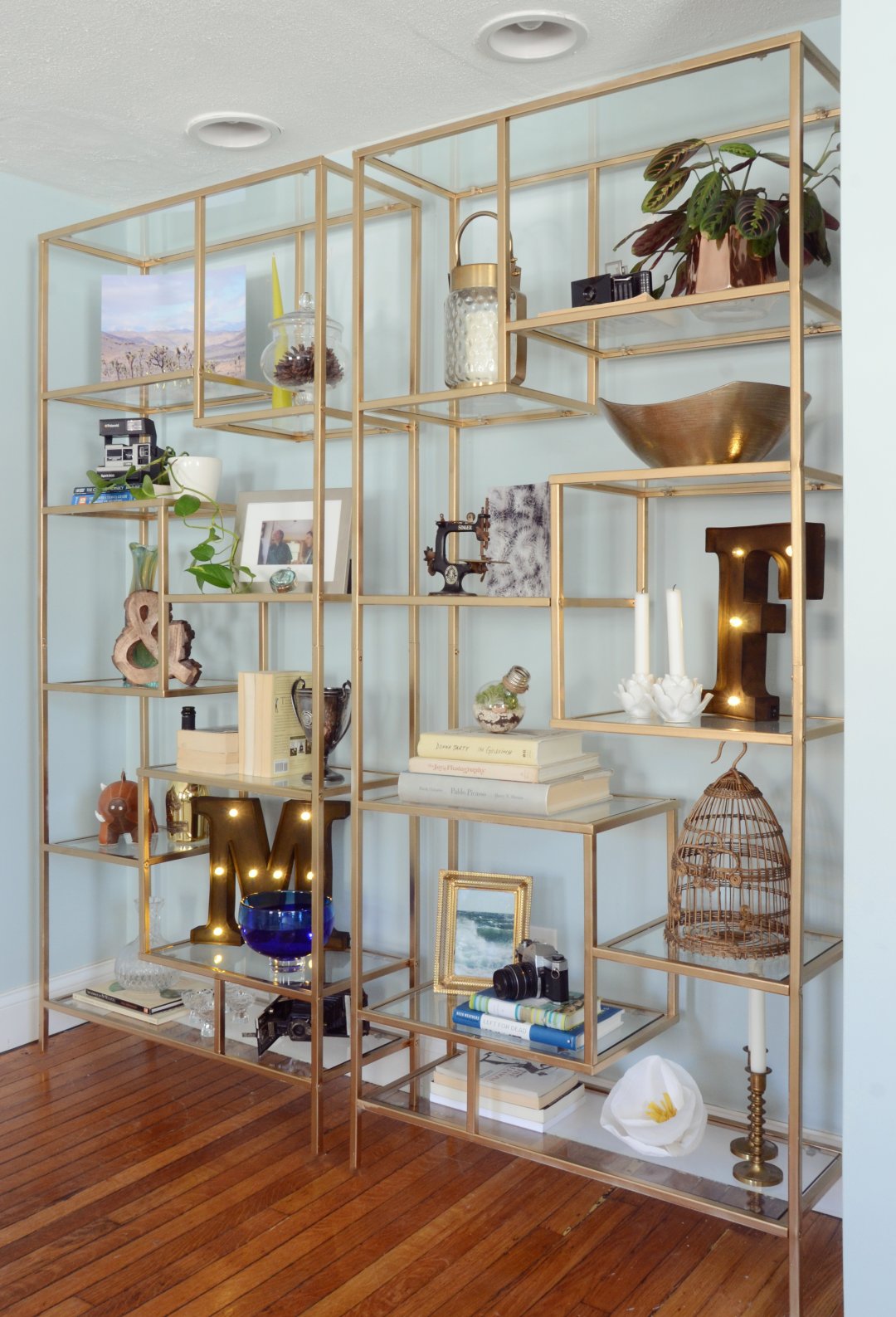 Step 6
Step back. Now it's time to look at the overall composition of your shelving. It should feel balanced, with a mix of soft and hard lines and a variety of textures. Swap out any last items that feel out of place, and that's it! The perfect #shelfie.
Items To Consider Including
Organic elements like plants, shells, or driftwood
Artwork (either freestanding, propped on the shelves or leaning against the back)
Sentimental items such as framed photos or vacation mementos
Collections (my vintage camera collection made an appearance on my shelves)
Decorative bowls and jars
Books and magazines
Monograms to add a personal touch
If you have any questions or success stories, feel free to share them in the comments section below. Happy shelf styling friends!
This post was created in partnership with Mixbook. Thanks for supporting the brands that help keep Design Fixation online!